There is so much information that would help your physician career change — "how-to …", tips, "secrets of ..". — floating around the web that I thought it would be useful to pull some of it into a brief summary with links. I plan to try this weekly and see if you find it helpful.
By the way, I glean most of this from following companies, subject matter experts and magazines via their social media.
Let's experiment with this – you can add to the knowledge (or noise!) by sharing your own discoveries in the comments area.
1. "THE FOUR THINGS THAT WILL GET YOU NOTICED BY RECRUITERS" is a Fast Company article that highlights the 4 things as:
Study your past experience — show how your experience matches the requirements or preferences for the position as listed in the job description.
Show, don't tell — wherever possible, quantify your accomplishments so that the reader or hiring manager has a way to evaluate your candidacy relative to the others who are applying.
Address red flags — be very clear as to what the gaps or frequent job changes in your career are about. provide explanations (without whining or accusing).
Build a personal brand — especially online with platforms such as Facebook Pages (not Profiles which are not searchable unless you permit them to be), LinkedIn (sooo much more to say about this over time and in my Physician's Odyssey Program) and Twitter.
2.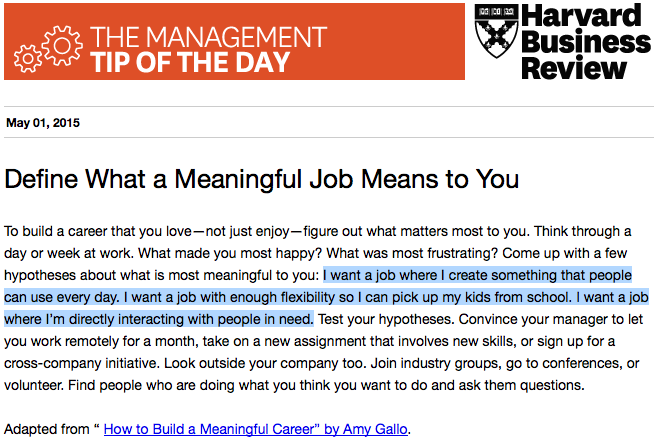 3. Tim Ferriss Reveals His "Amazing Secret Weapon" for Building a Career is from another favorite magazine of mine, Inc.. I'm always a bit cautions around hype-filled titles but I guess they do catch the eye! His weapons are:
The secret to building a career: Volunteering
The future of education is online
Entrepreneurs (and everyone else) must prioritize mental health
For maximum productivity, remember to take breaks
There is "one truth" that very few people agree with him on (I too struggled with this one, but each to his own)
In case you're wondering, my top 3 online magazines are Fast Company, Inc, and Harvard Business Review, and the sites that yield the most career-related information that can be adapted for physicians are Facebook , LinkedIn (especially some of the Groups), and Twitter.
Happy perusing this week!